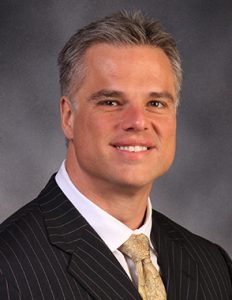 Brian C. DeBusk, Ph.D., MBA, serves as the CEO of DeRoyal Industries, one of nation's largest privately held medical equipment and device companies, specializing in the design, manufacture, and marketing of surgical supplies, orthopaedic goods, and wound care products. In addition to his role as CEO, as a scientist and researcher, Dr. DeBusk is actively involved in product research and development. His programs include the development of new orthopaedic trauma systems, cadaveric blast and ballistics research with Walter Reid Army Hospital, infection control applications for the timed release of ionic silver in products ranging from incision drapes to internal fixation plates, and the development of a clinico-economic model to address opioid-free management of lower back pain.
Dr. DeBusk has also engaged members of the American Academy of Orthopedic Surgeons and the American Academy of Family Practice on a number of additional models for treatment of sprains and non-displaced fractures of the knee, distal radius, and distal tibia as well as advanced applications for diabetic wound management. Dr, DeBusk routinely works with physician groups and emergency departments from across the country developing programs in early definitive care of orthopedic injuries to improve the quality of care, increase patient satisfaction and lower cost. The system links ICD-9 codes, HCPCS codes and specific protocols of care for the automated dispensing of orthopedic products. Similarly in the operating room, Dr. DeBusk has led the development of an RFID-based solution that optimizes physician preference cards, which in turn optimizes the flow of materials through the OR. Controlling resource flow through the operating room is critical to minimizing patient infections and minimizing patient time under anesthesia – two key surgical safety considerations.
Dr. DeBusk began his science career nearly three decades ago at Vanderbilt University after being invited by the lead researcher of the Surface Physics Group to pursue work following his freshman year. In subsequent years, he also served as a research assistant in the Living State Physics group and the Neuroscience Program. After his junior year, he was admitted into graduate school in the field of neuroscience focused on the primary visual cortex. During this time, Dr. DeBusk worked in three key areas: Surgical Dissection and Anatomy, Electronic Processing and Capture of Cortical Discharges, and Digital Array Signal Processing. This is a particularly multi-disciplinary area of science since it requires a background in biology, engineering and theoretical mathematics. Dr. DeBusk's work in cortical discharge sequence analysis led to a series of discoveries on how information is coded in the brain, particularly how the brain uses global inhibitory mechanisms for gain control and the role of gammaaminobutyric acid in mediating the cross-inhibition of neurons. This work also led to him receiving his Ph.D. in engineering only three years after completion of his undergraduate degree. As such, Dr. DeBusk remains the youngest Ph.D. recipient in the history of Vanderbilt University. His research in the field of neuroscience produced six publications including a firstauthorship paper in The Journal of Physiology in 1997. Dr. DeBusk also attended the Goizueta Business School at Emory University, where he graduated with the number one academic rank in his class. After graduation, Dr. DeBusk joined DeRoyal as their head of Research and Development. During this time, he pioneered the development of several medical products including hydrogelcoated neonatal temperature probes that are now commonly used in hospitals throughout the country. He subsequently served as COO and ultimately CEO of DeRoyal during which time the company launched products in temperature monitoring, anesthesia, patient protection, risk management, wound care, orthopedic softgoods and surgical accessories. He also led the development of a combined supply chain and information solution system offered through both Owens & Minor and McKesson. This system was awarded both the Product of the Year and the Field Sales Support of the Year by McKesson in 1999. Dr. DeBusk also holds five patents in the fields of health care and information technology. Dr. DeBusk has served as a professor at the University of Tennessee. As a faculty member in the Physician Executive MBA program, Dr. DeBusk taught both Information Technology and Strategy courses offered exclusively for physicians seeking high-quality leadership, management, and business operation skills – receiving the University of Tennessee's Teaching Excellence Award in 1998. As an entrepreneur in the field of health information technology, Dr. DeBusk formed iPath, which pioneered the development of many features found in modern-day Operating Room (OR) Information Systems including Block Scheduling, Charge by Exception, In-room Clinical Documentation, Rules-based Charging, Tiered Preference Cards and Structured Bills of Materials. Software provided by iPath allowed providers to seamlessly manage both the clinical and financial aspects of operating room care. Under Dr. DeBusk's leadership, iPath had captured one out of every three new orders for operating room systems, was ranked number one in 15 of the 18 KLAS software evaluation categories and was generally accepted as the leader in OR systems segment. Having been purchased by General Electric (GE) in 2002, iPath remains in existence today and its products are offered by GE Healthcare under the brand name Centricity. After the sale of iPath, Dr. DeBusk joined GE Healthcare serving in various senior management roles as General Manager of Enterprise Resource Management; as Vice President and General Manager of Clinical Enterprise Solutions; and as Director of Global Business Development. Dr. DeBusk worked for GE in capacities ranging from engineering, sales and marketing and acquisitions of new businesses. Dr. DeBusk then led the turnaround of Inobis Healthcare, an information technology company that specialized in item catalog analysis for determining the functional equivalence of similar disposable medical devices. After a successful restructuring of the company's information technology infrastructure and sales force, Inobis was sold to MedAssets of St. Louis, MO. This company remains in existence today and is offered as part of the MedAssets information technology portfolio. With an eye on the future of alternative energy resource, Dr. DeBusk is also the founding principal of Pace Energy Systems, an engineering company focused on the manufacture of fuel ethanol and biodiesel. At Pace, Dr. DeBusk's work focused on a number of fermentation-based technologies including enzyme technologies, fractionation technologies, and vacuum distillation techniques as well as alternative conversion techniques, including the use of microbes to directly convert gasified biomass directly into ethanol via biorefinery technology. When not traveling and presenting at conferences across the country and the globe, Dr. DeBusk resides in Tennessee with his wife and six children.