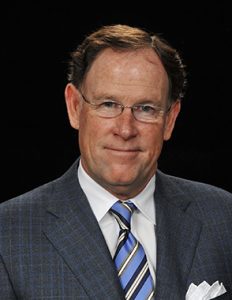 Dugan McLaughlin has provided financial strategies and services to affluent individuals and families since 1981. He began his career at J.C. Bradford & Co. (later acquired by Paine Webber, then UBS). In 2008, Dugan brought his team to Merrill Lynch, where he directs the McLaughlin Group's offerings within the Private Banking and Investment Group.
Dugan has significant experience in working with ultra-high-net-worth families and institutions, and has a long track record of developing customized investment strategies for clients. Dugan has received a number of accolades for distinguished professional service. In 2011, 2012, and 2013, Barron's magazine named Dugan one of the "Top 1,000 Financial Advisors in America."
Dugan is a graduate of the University of Tennessee. He has been extremely active in the community. He currently serves on the board of the Boys and Girls Club of Knoxville, and is a former board member of East Tennessee Children's Hospital, Nucleus Knoxville, Knoxville Art Museum, Mercy Health Foundation, and the Knoxville Zoo. He has held a number of leadership positions, including Founding Chairman of Nationwide Golf Tournament, president of Nucleus Knoxville, cabinet member of the United Way, and appointee to the University of Tennessee, Knoxville, Chancellor's Associates.
Dugan and his wife Stephanie live in Knoxville with their three children.