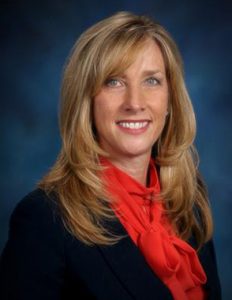 Lisa Hurst, Ed.D. President & CEO Boys & Girls Clubs of the Tennessee Valley Lisa Hurst is the third President & CEO in the history of Boys & Girls Clubs of the Tennessee Valley, which was established in Knoxville in 1943.  Lisa started swimming at the Club when she was just 3 years old, and she continued to swim as a member of the Boys Club until her senior year of high school.  Lisa has a BS in Mass Communications, a Master's degree in Teaching, an education specialist degree in administration from Lincoln Memorial University, and recently completed her Doctorate of Education in Executive Leadership.  She began her career with Boys & Girls Clubs in 1982 as the aquatics director and, prior to becoming President & CEO in 2012, held the position of Executive Vice President.  Lisa worked for the organization for seven years before leaving to further her education and teach school, but she longed for involvement with the Boys & Girls Clubs, which ultimately brought her back home.  She ambitiously quit her teaching job in Georgia and returned to the Boys & Girls Clubs in 1992.
Lisa Hurst has been responsible for many achievements of the Boys & Girls Clubs of the Tennessee Valley including securing millions of dollars in grant funding, managing the vendor voucher child care certificate program, diversifying the organization's portfolio of funding opportunities, and coordinating the USDA food program that feeds over 530,000 meals and snacks to Club members annually.  These efforts have increased the annual operating budget from $1.2 million in 1991 to a $7.4 million in 2015, allowing Boys & Girls Clubs of the Tennessee Valley to move from serving 1,100 youth annually to more than 6,400 youth annually.  Lisa also developed the young professional's group Club Blue and the women's giving circle Purses with Purpose.  The enhanced exposure and revenue has allowed Boys & Girls Clubs of the Tennessee Valley to offer innovative programs and attract extraordinary staff, ensuring that our youth have opportunities for life changing experiences in the Clubs.
Over the years, Lisa's leadership has inspired countless staff members.  Today, she employs 439 full time and part time staff for whom she offers guidance and professional development opportunities.  Her personal commitment to professional development has led her not only to pursue her doctorate, but to classes at Harvard University and participation in the Global Institute for Leadership Development.  Lisa has won allies in our community, across our state, and across the country. Her influence of statewide initiatives includes the development of the Boys & Girls Clubs Tennessee Alliance, a 501(c)(4) organization comprised of 21 Boys & Girls Clubs across the state and considered best in the nation.  Instrumental to the success of the Alliance, Lisa has secured millions of dollars for Clubs across the state and works closely with state departments to ensure the best programming possible for the youth in Tennessee.  Lisa also established the Community Based Organization Boys & Girls Clubs in Tennessee.  In support of state initiatives, Lisa developed Lottery for Education: Afterschool Programs, or LEAP, legislation, secured Unregulated Child Care Funding for Clubs, and initiated Department of Education certification for Clubs.  Always an advocate for youth, Lisa secured 21st Century Community Learning Center funding for Boys & Girls Clubs, participated in the Tennessee Department of Education Community Outreach Advisory Committee, and has developed partnerships with Tennessee Departments of Human Services, Education, and Health.
Nationally, Lisa's leadership and partnership development skills are evident in her involvement in Boys & Girls Clubs of America's Government Relations Committee, National Outcomes Initiative, and Conference Planning Committees, as well as in her role as a National Training Associate.  She was recognized as Boys & Girls Clubs of America's Professional of the Year for the Southeast Region.  A Member of the Downtown Rotary Club, Lisa was the 2012 Rotary District Conference Chair.  She is also a member of the Leadership Knoxville Class of 2010.  Other committees Lisa serves on include: University of Tennessee Chancellors Associates, Center for Healthcare Efficacy, Department of Education Advisory Council LMU, Executive Women's Association, Knoxville Estate Planning Council, Regional Coalition Planning Council, Tocqueville Society, Knox County Community Schools Planning/Implementation Committee, Community Schools Partner Coalition, Pond Gap Advisory  Committee, United Way Strategic Planning Committee, and Carnegie Community Advisory Committee. OF THE TENNESSEE VALLEY www.bgctnv.org • WWW.IGNITEGREATNESS.ORG